How to use this web site
Interactive map
The initial map window shows the map at a zoom level that shows all bus stops. Zooming out from here turns them off to allow the map to be read more easily.
A locator map in the bottom right corner of the map screen shows where you are on the map. The locator map window can be turned on and off by clicking on the chevron in the top left corner of the locator map.
Rolling the mouse over or clicking on any bus stop will display the name of the bus stop.
Each bus stop shows all the services that call at that bus stop and their two letter operator name code. Clicking on the number shows the line of the route in red on both the main map and also the locator window in the bottom right of the screen. Clicking on the timetable icon will open the timetable for that service in a new window (in PDF format).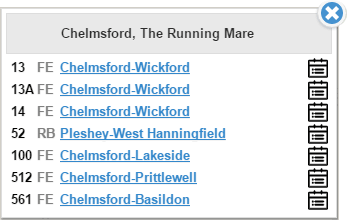 Clicking on any rail station will show name of the station, click on this to see the live departure screen for that station on National Rail.
Clicking on any London Underground station will show name of the station, click on this to get more information from the TfL web site.
You can view all bus routes by clicking on the "Routes and times" tab. Clicking on any number will show the operator name (in full) and give a link to the timetable and show you the route on the map.
Type any text in the search box above the map window to quickly locate places on the map.
Click "Refresh Map" to reset the map to the opening view, which is centred on Chelmsford.
---
Timetables

This shows a full list of all timetables if you wish to access them without using the map.
---
Upcoming Timetable Changes

For details of any forthcoming changes to services please visit the bus timetable changes page on the Essex County Council website.
---
Follow us

Direct Twitter feed for Essex County Council;
@essex_cc – Main Corporate account
@essex_pt – Official Passenger Transport feed for ECC
@essex_travel – Latest from ECC's Traffic Control Centre
---
Downloads

This shows a list of all printable maps in PDF format, if you wish to view them rather than the map. Click on any name to open it on screen or right click to save to your computer.